Divers Den launches Starlink Maritime onboard OceanQuest, a first for the Great Barrier Reef
April, 2023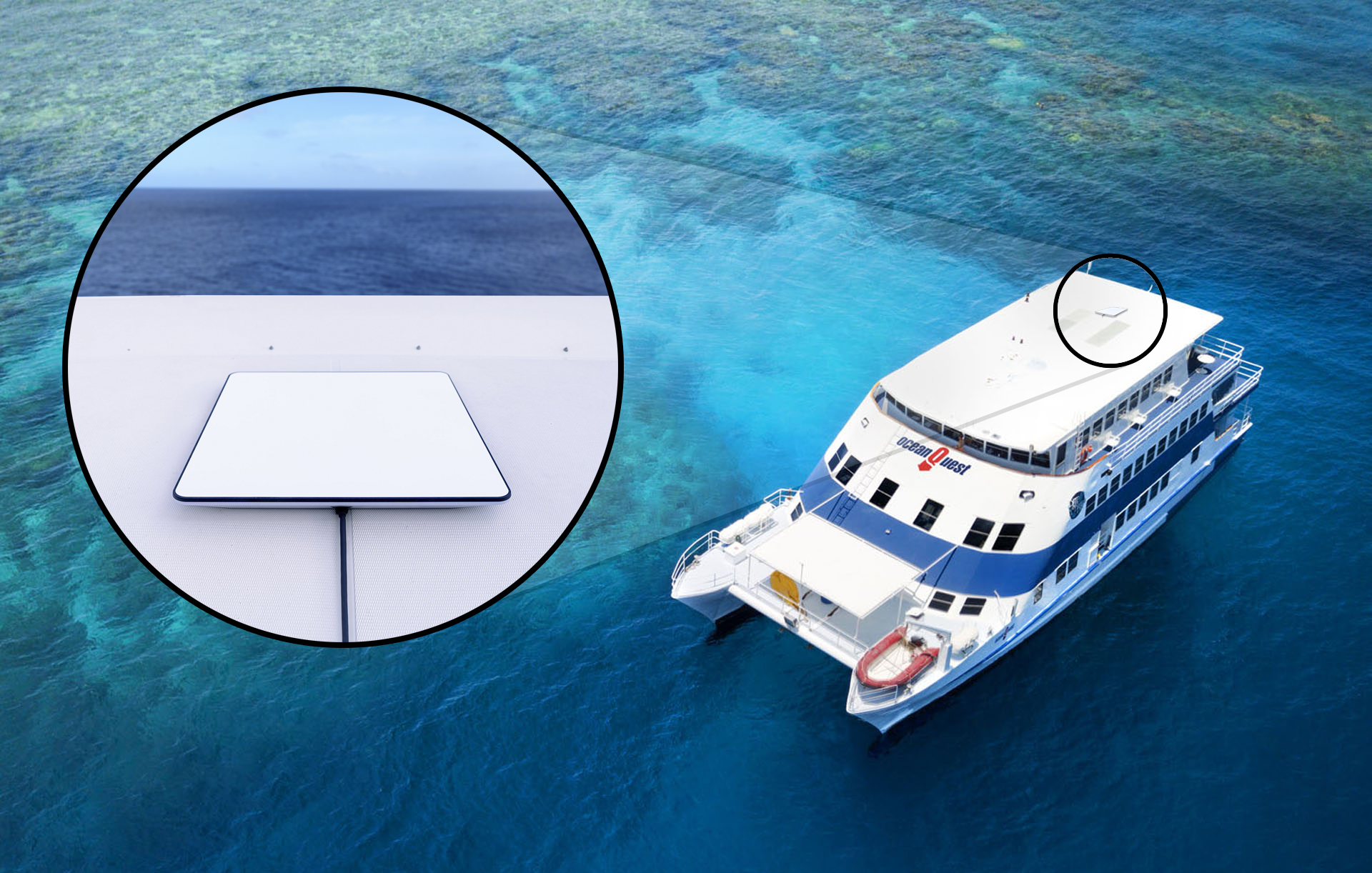 Divers Den, one of the world's leading dive centres, is the first commercial business in Cairns and the Great Barrier Reef to install 'Starlink Maritime' onboard their overnight liveaboard dive vessel OceanQuest.
Divers Den partnered with AirBridge Networks and Vocus to design, procure and commission an Australian-based, fit-for-purpose marine-grade Starlink solution that is backed by onshore support.
Starlink has revolutionised internet connectivity for remote areas across Australia, delivering high-speed internet via satellites. Previously, areas like the outer reef had relied on low-frequency 3G connections, resulting in limited signal availability explains Daniel Rode, Entrada Travel Group's General Manager of Marketing and Technology.
"With the 3G network due to shut down in June 2024, we have been looking for the best solution to keep our team connected, and the implementation of Starlink Maritime technology is a real game changer. Not only has it improved the speed, but the connection is also more reliable which significantly enhances the services we are able to provide our guests, opening a whole new world of future possibilities."
OceanQuest, a 36m catamaran, offers year-round diving trips to Australia's Outer Great Barrier Reef. Recently refurbished, the vessel boasts 22 cabins, each with an en-suite bathroom, spread across three spacious decks. With the new Starlink Maritime connection, OceanQuest can now offer guests more Point-of-Sale (POS) options, including PayWave and contactless payment, making transactions simpler and more efficient.
"The AirBridge/Vocus partnership and the use of Starlink technology enables us to provide innovative solutions for early adopters like Divers Den. Their team recognizes the immense value this technology brings to their guests, and we're particularly proud to be part of this implementation." said James Hughes, Business Development Executive at AirBridge Networks.
Divers Den also plans to take advantage of the Starlink Maritime technology further by offering onboard eLearning via the PADI website and app. This will provide passengers with the opportunity to learn to dive and get certified while already out on the reef, eliminating the need for classroom instruction before the trip.
"Expanding how we deliver eLearning dive courses on board OceanQuest is one of the areas we are keen to focus on as well as expand connectivity across other vessels in future" said Rode.