Premium Great Barrier Reef Day Tour Company Tusa Reef Tours Relaunches with New Focus on Sustainability and Exclusivity
June, 2023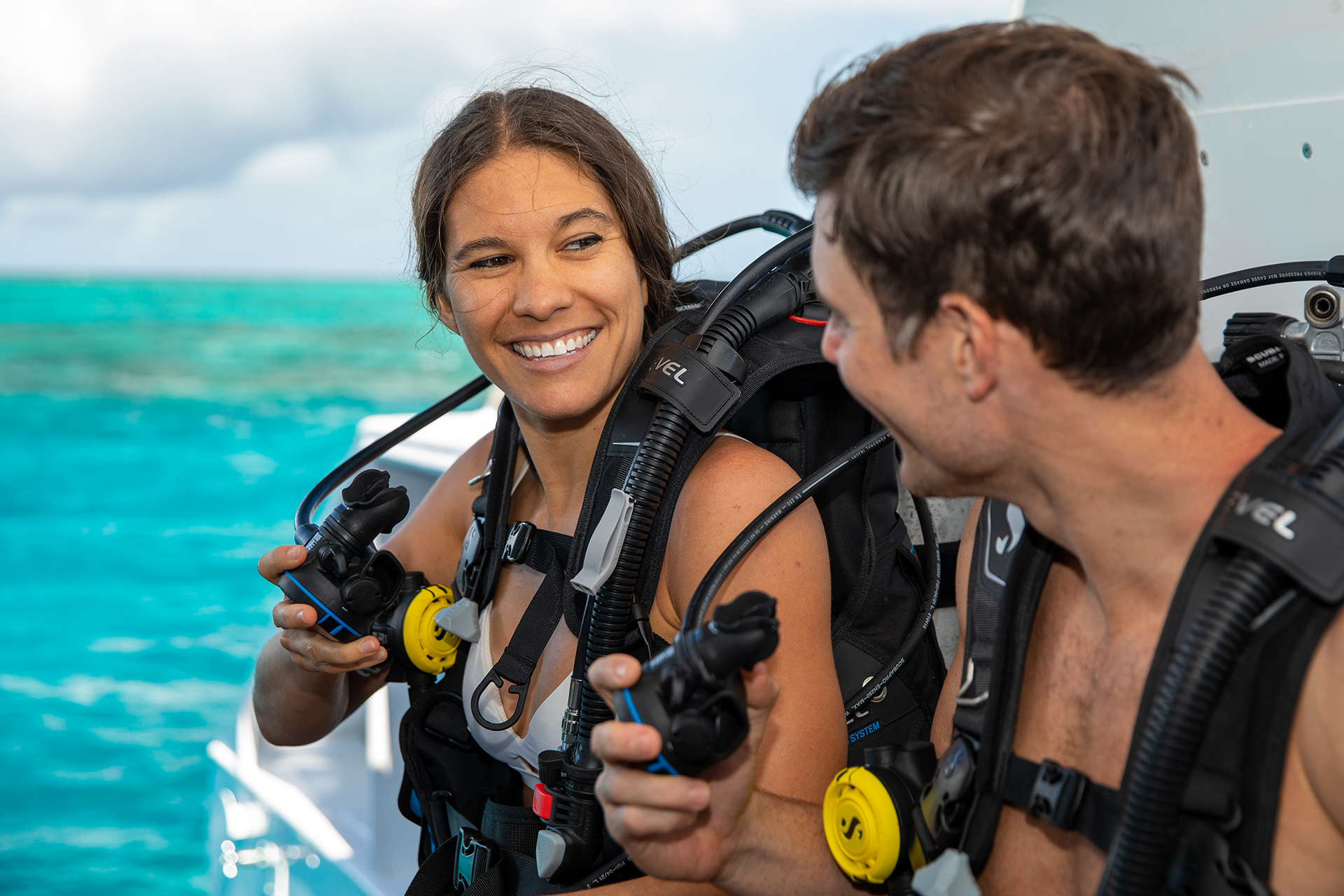 Entrada Travel Group is excited to announce the highly anticipated relaunch of its Tusa Reef Tours with a fresh new look, a renewed focus on sustainability, and a redesigned experience that blends luxury, education, and environmental stewardship.
For more than 30 years, Tusa Reef Tours has been synonymous with diving the Great Barrier Reef and its relaunch to market sets a new gold standard for premium tours to this iconic area.
The new Tusa Reef Tours will commence outer reef tours with an all-inclusive experience that offers certified dive, snorkel and introductory scuba diving experiences for visitors to the region.
Intimate Great Barrier Reef experience
Guests will receive the highest level of personalisation and service, with trips limited to just 40 passengers, guaranteeing an intimate encounter with the reef.
With a highly skilled team of marine biologists and marine guides onboard, Tusa Reef Tours will also deliver one of the most innovative and educational adventures both above and below the water.
Through interactive presentations, guided snorkelling and diving experiences, and one-of-a-kind underwater commentary options, guests will gain a deep appreciation and understanding of the reef's delicate ecosystems and the importance of its conservation.
Entrada Travel Group's COO (Chief Operating Officer) of Tropical North Queensland, Genevieve Wardleworth says she is thrilled to welcome the Tusa name back into the local market: "We are tremendously excited to unveil a new era of luxury Great Barrier Reef day trips with the launch of Tusa Reef Tours, which seamlessly blends exclusivity, sustainability, and education. With a renewed focus on environmental stewardship, we aim to redefine the luxury travel experience, showcasing the Great Barrier Reef to visitors, while actively protecting its future."
Sustainability at the fore
In a first for Cairns' reef tourism, Tusa Reef Tours will also measure and offset all direct carbon emissions by partnering with Reforest and supporting local reforestation efforts in the Mabi Forest in the Queensland Tablelands and in the Widgewah Conservation Sanctuary project in Victoria.
Genevieve Wardleworth said sustainability was a core focus as the team planned the relaunch "We're really excited to be partnering with Reforest and introducing what we hope will be many meaningful ways in which we can measure, reduce and mitigate our impact. We have made conscious sustainability decisions on food provenance, packaging and even dive equipment, introducing the very latest in plant-based wetsuits that won't clog landfills in years to come."
Tusa Reef Tours will depart Cairns Marlin Marina daily from 24th June 2023. The all-inclusive day trip is priced at AUD $420 per person and includes all scuba equipment and instruction, unlimited snorkelling, delicious snacks, sumptuous meals, and complimentary beverages. A minimum age of 12 years applies.